Today Christina and I hiked up big hill (high altitude + out of shapeness = huffing and puffing) to see the two museums dedicated to the art of Ecuadorian, Guayasimin. I found his art very interesting, often grotesque, but all in all the experience was more visually powerful than a lot of American art I've seen.
Guayasamines has a lot of pictures involving his trademark hands.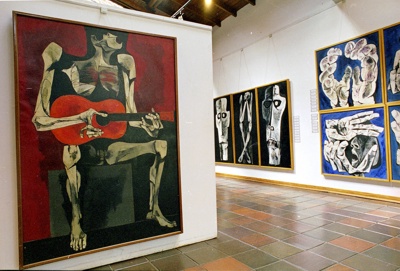 This museums were very well organized, and I enjoyed my time at both of them.
After visiting the museums, we went to the museum cafe and had our first empanada! Mine was cheese filled and Christina had one with meat. The view every where from Quito is spectacular. I know I keep on saying how beautiful the montain and clouds are...but this is a picture of the view from the museum that was pretty breathtaking.
While eating empanadas we met Frank, a young guy volunteering in Guayiquil. Every traveler we meet here has some interseting life stories. Frank (though he looks hip and very californian frat guy) worked in a seminary for two years, currently volunteers in Ecuador with HIV/AIDs kids and families and wants to work in a faith related occupation for the rest of his life.
Thanks to his excellent recommendation, we had dinner with him at Ecuador's "top of the hub" which was open air. We could see all of "Old Town" sparkling in the valley as well as the lit old town buildings. I tried Ecuadorian specialties- a humita (think tamale filled with cheese), locra de papas (potatoe soup with cheese and avocado), morocho (warm mikly drink with corn and raisins, like rice pudding). It was a wonderful night and we were treated with a live latin band which we stayed to listen to.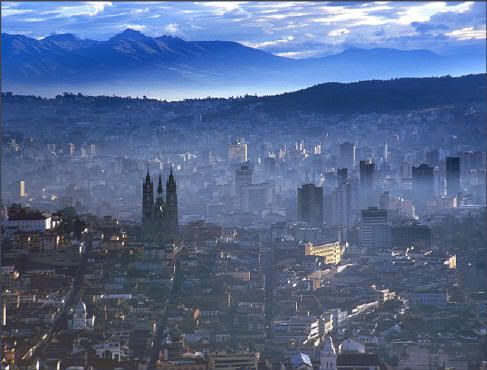 Old town during the day- isn't quito gorgeous?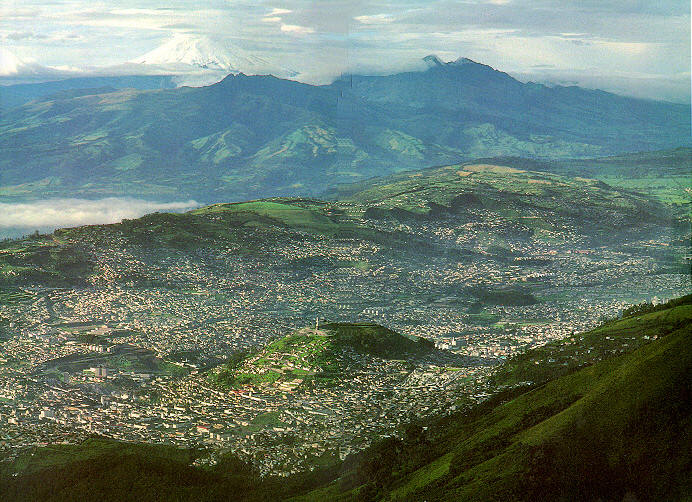 Old town at night, so beautiful. It gets chilly at night here so they turned on these heat lamps that looked dangerous...